Identificación Estable de Fuentes Asociadas a Focos Epilépticos Ubicadas sobre la Corteza
Abstract
Objetivo: Presentar un algoritmo estable que determina, a partir de mediciones electroencefalográficas, los pará- metros de fuentes de tipo dipolar asociadas a focos epilépticos ubicados sobre la superficie de la corteza cerebral. Metodología: Se utiliza un problema de contorno para establecer correlaciones entre la fuente y la medición. El pro- blema se divide en dos subproblemas lineales y en cada uno de ellos, se utilizan el método de mínimos cuadrados y la regularización de Tikhonov para encontrar soluciones estables. Estos subproblemas son problemas mal planteados en el sentido de Hadamard, debido a la inestabilidad numérica que presentan, es decir, pequeños cambios en las mediciones pueden producir grandes variaciones en la solución de cada problema. El parámetro de regularización de Tikhonov fue elegido usando el método de la curva L. Para hallar la solución del problema de contorno se utiliza el método de las series de Fourier y el Método del Elemento Finito. Resultados: Se propuso un tipo de fuente para representar a los focos epilépticos en la corteza cerebral y un algoritmo estable para el problema de identificación de los parámetros de dichas fuentes. Se desarrollaron ejemplos sintéticos y programas en MATLAB para el caso de geometría simple bidimensional. Originalidad: La separación del problema original en dos subproblemas así como los ejemplos sintéticos son producto de esta investigación. Conclusión general: Se propuso un algoritmo estable que determina a los parámetros de fuentes de corriente dipolar definidas en la corteza cerebral.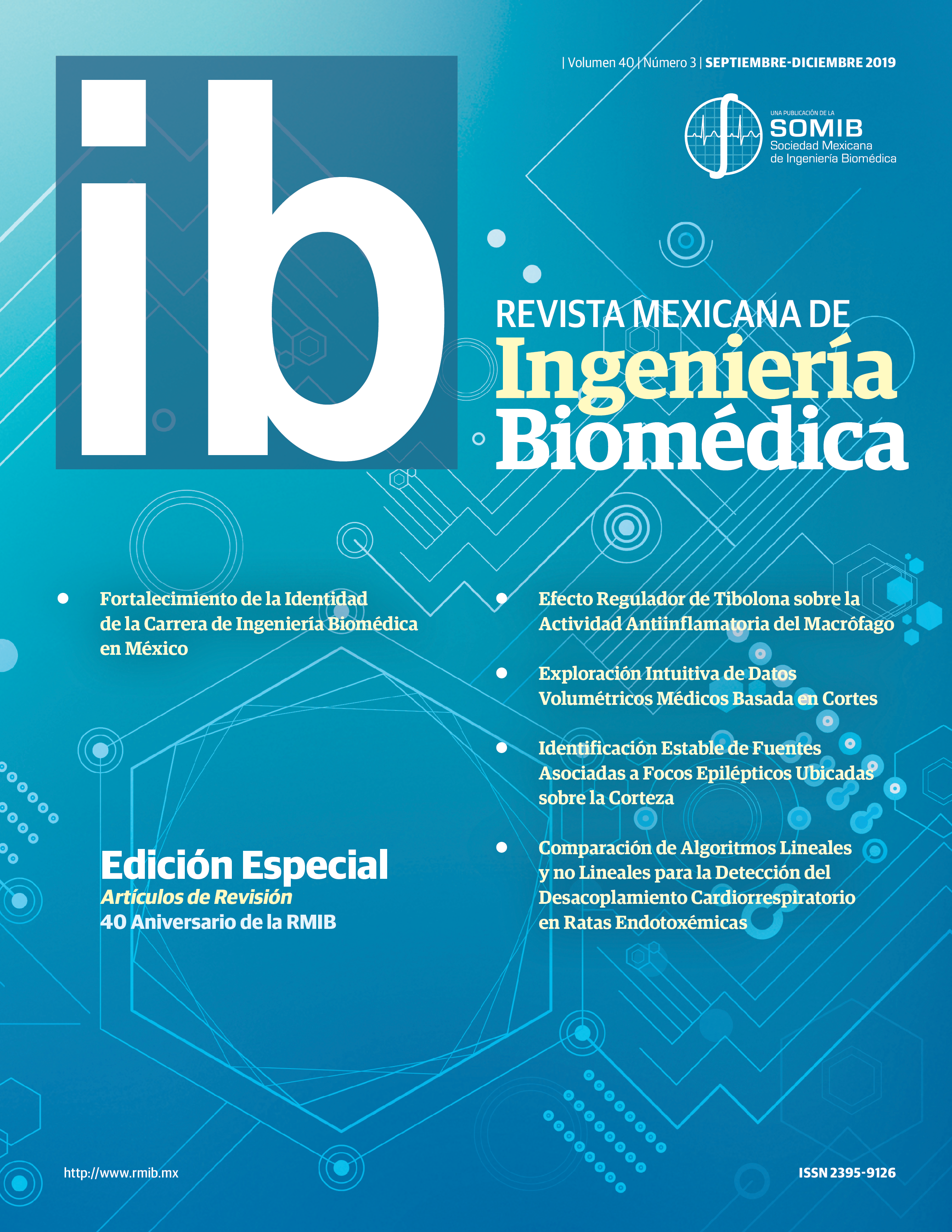 How to Cite
Morín-CastilloM. M., Netzahualcoyotl-Bautista, C., Conde-Mones, J. J., Oliveros-Oliveros, J. J., & Santillán-GuzmánA. (2019). Identificación Estable de Fuentes Asociadas a Focos Epilépticos Ubicadas sobre la Corteza. Mexican Journal of Biomedical Engineering, 40(3), 1-14. Retrieved from http://rmib.mx/index.php/rmib/article/view/1000
Section
Research Articles
Upon acceptance of an article in the RMIB, corresponding authors will be asked to fulfill and sign the copyright and the journal publishing agreement, which will allow the RMIB authorization to publish this document in any media without limitations and without any cost. Authors may reuse parts of the paper in other documents and reproduce part or all of it for their personal use as long as a bibliographic reference is made to the RMIB and a copy of the reference is sent. However written permission of the Publisher is required for resale or distribution outside the corresponding author institution and for all other derivative works, including compilations and translations.