Comparación de Algoritmos Lineales y no Lineales para la Detección del Desacoplamiento Cardiorrespiratorio en Ratas Endotoxémicas
I. M. Flores-Duarte

Universidad Autónoma del Estado México

A. C. Pliego-Carrillo

Universidad Autónoma del Estado México

C. I. Ledesma-Ramírez

Universidad Autónoma del Estado México

J. C. Echeverría-Arjonilla

Universidad Autónoma Metropolitana

M. A. Peña-Castillo

Universidad Autónoma Metropolitana

G. Pacheco-López

Universidad Autónoma Metropolitana
Abstract
En estudios previos se ha demostrado que la endotoxemia inducida por lipopolisacárido (LPS) produce un desaco- plamiento cardiorrespiratorio (CRP) debido a los efectos fisiológicos de la inflamación sistémica. Adicionalmente se sabe que la oxitocina tiene efectos antiinflamatorios y propiedades cardioprotectoras; sin embargo, se desconoce si ésta modifica el acoplamiento CRP. El objetivo del presente estudio fue comparar diferentes métodos matemáticos lineales y no lineales para la detección del desacoplamiento cardiorrespiratorio entre series de tiempo cardiacas y respiratorias. Se estudiaron series de tiempo R-R obtenidas de electrocardiogramas de grupos de roedores macho a los cuales se les administró solución salina o vehículo (V); lipopolisacárido (LPS); oxitocina (O) y LPS + oxitocina (LPS+Ox). Las series R-R y respiratorias derivadas del electrocardiograma (EDR) se analizaron en conjunto para cuan- tificar su grado de acoplamiento a través de las técnicas de correlación cruzada; entropía muestral cruzada; entropía condicional; información mutua; e información mutua de Rényi para los cuatro grupos. Se observó que la oxitocina no parece favorecer el acoplamiento CRP durante la endotoxemia inducida por LPS. Finalmente, se encontró que la entropía muestral cruzada y la entropía condicional presentaron las mayores diferencias estadísticas para identificar el desacoplamiento CRP producido por el LPS.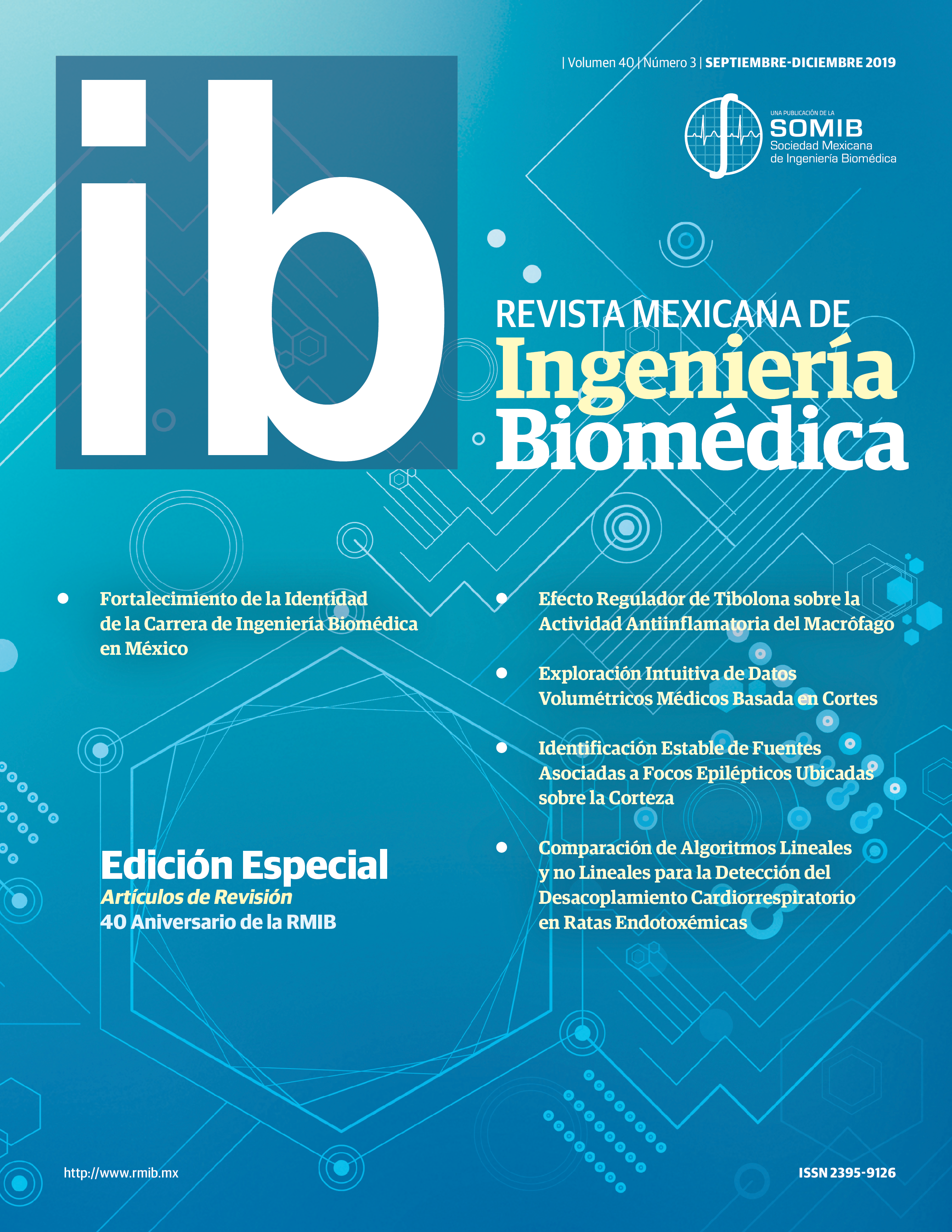 How to Cite
Flores-Duarte, I. M., Pliego-Carrillo, A. C., Ledesma-RamírezC. I., Echeverría-ArjonillaJ. C., Peña-CastilloM. A., & Pacheco-LópezG. (2019). Comparación de Algoritmos Lineales y no Lineales para la Detección del Desacoplamiento Cardiorrespiratorio en Ratas Endotoxémicas. Mexican Journal of Biomedical Engineering, 40(3), 1-11. Retrieved from http://rmib.mx/index.php/rmib/article/view/1001
Section
Research Articles
Copyright (c) 2019 I. M. Flores-Duarte, A. C. Pliego-Carrillo, C. I. Ledesma-Ramírez, J. C. Echeverría-Arjonilla, M. A. Peña-Castillo, G. Pacheco-López
This work is licensed under a Creative Commons Attribution 4.0 International License.
Upon acceptance of an article in the RMIB, corresponding authors will be asked to fulfill and sign the copyright and the journal publishing agreement, which will allow the RMIB authorization to publish this document in any media without limitations and without any cost. Authors may reuse parts of the paper in other documents and reproduce part or all of it for their personal use as long as a bibliographic reference is made to the RMIB and a copy of the reference is sent. However written permission of the Publisher is required for resale or distribution outside the corresponding author institution and for all other derivative works, including compilations and translations.