Equipo Médico para Clínicas de Mama una Mirada Desde la Práctica de la Ingeniería Clínica
Abstract
El presente trabajo describe la experiencia que involucró la gestión tecnológica de equipo de médico para el esta- blecimiento de la primera y tercera clínica de mama en la delegación CDMX, Sur, del Instituto Mexicano del Seguro Social (IMSS) como una estrategia para el desarrollo de un programa nacional de detección temprana, diagnóstico oportuno y tratamiento con calidad óptima, trato cordial y respeto a los derechos de las pacientes. En este sentido, se exponen los principales argumentos referentes a los lineamientos utilizados para la evaluación de la tecnología medica en el desempeño de los mastógrafos digitales por ser este el equipos más representativo del proyecto, para lo cual se elaboro una cedula de descripción que fue aplicada en seis equipos de mastografía en la cual se vierten los conceptos que intervienen en el análisis de especificaciones técnicas, destacando la respuesta de los detectores, dosimetría, contraste y calidad de la imagen entre los principales aspectos. Teniendo como premisa el compartir las experiencias obtenidas en la creación de dichas clínicas, y el rol del ingeniero biomédico como parte del equipo multidisciplinario, considerado como un gestor del conocimiento respecto a la optimización de los equipos de ima- genologia en cada una de las unidades médicas.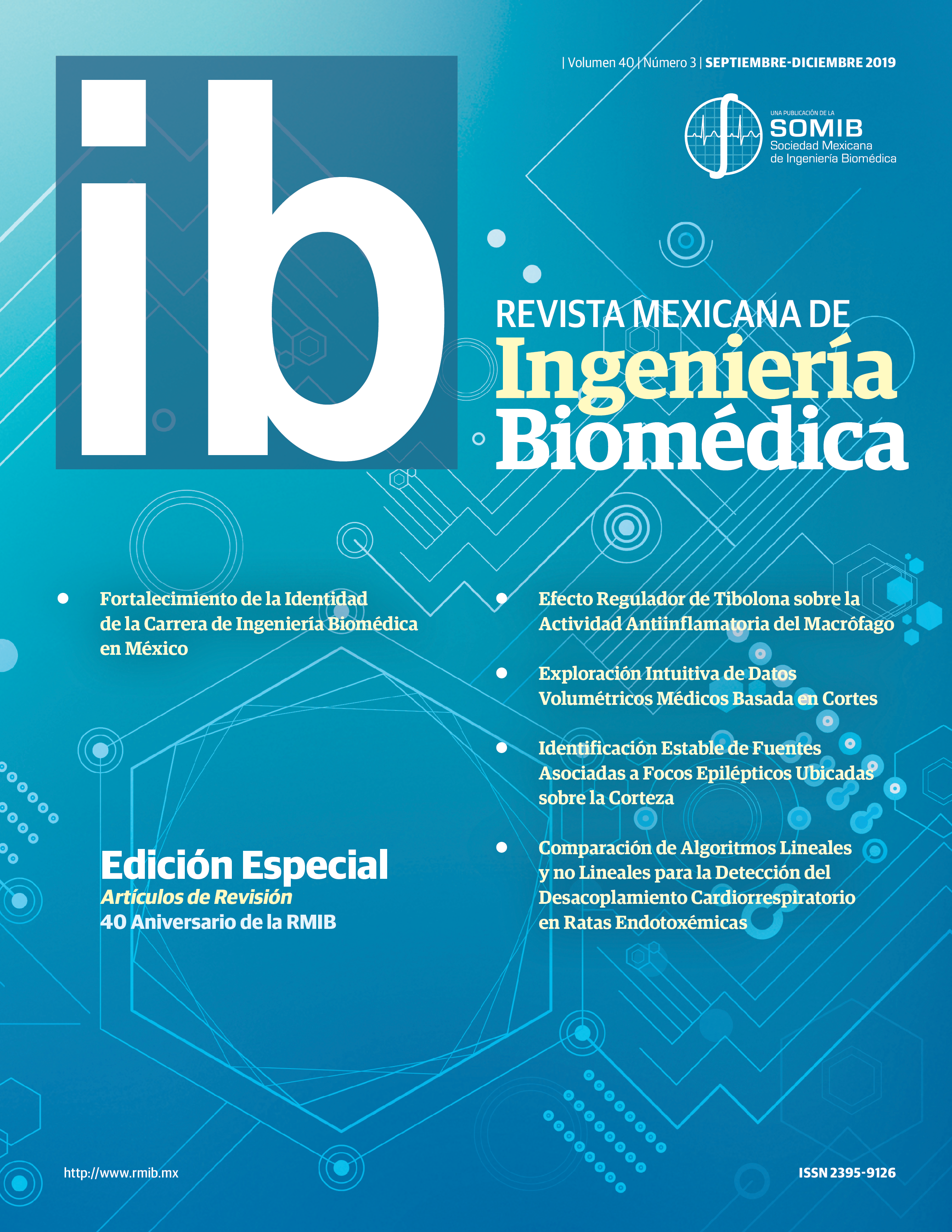 How to Cite
Martínez-ChávezG. A. (2019). Equipo Médico para Clínicas de Mama una Mirada Desde la Práctica de la Ingeniería Clínica. Mexican Journal of Biomedical Engineering, 40(3), 1-8. Retrieved from http://rmib.mx/index.php/rmib/article/view/1017
Upon acceptance of an article in the RMIB, corresponding authors will be asked to fulfill and sign the copyright and the journal publishing agreement, which will allow the RMIB authorization to publish this document in any media without limitations and without any cost. Authors may reuse parts of the paper in other documents and reproduce part or all of it for their personal use as long as a bibliographic reference is made to the RMIB and a copy of the reference is sent. However written permission of the Publisher is required for resale or distribution outside the corresponding author institution and for all other derivative works, including compilations and translations.