Wireless Vein and Artery Identifier for Laparoscopic Instruments
J. Torres-Ventura

Cuerpo Académico de Bioingeniería y Salud Ambiental de la Universidad Autónoma de Baja California

M. A. Reyna

Cuerpo Académico de Bioingeniería y Salud Ambiental de la Universidad Autónoma de Baja California

R. Rascón

Facultad de Ingeniería-Campus Mexicali, Universidad Autónoma de Baja California

R. L. Avitia

Cuerpo Académico de Bioingeniería y Salud Ambiental de la Universidad Autónoma de Baja California

M. E. Bravo-Zanoguera

Cuerpo Académico de Bioingeniería y Salud Ambiental de la Universidad Autónoma de Baja California
Abstract
This article presents an innovation on a conventional laparoscopic instrument, to which was added the automatic function to identify veins and arteries. It is proposed the use of a reflective-optical sensor with a specific work wavelength acting on blood vessels. The discrimination success between veins and arteries is achieved based on the range of difference between the light emitted and the light reflected. At the tip of a laparoscopic instrument was fitted a reflective-optical sensor composed of a LED and a light dependent resistor. In the upper part of the instrument an electronic control, processing and radio frequency transmitter module was fitted, which warns the surgeon and his assistants if the detected blood vessel is a vein or artery. The instrument was tested in vitro using whole human blood samples and in vivo on canine model blood vessels. With the innovation a low-cost support tool is achieved that could aid the surgeon when working on minimally invasive environments.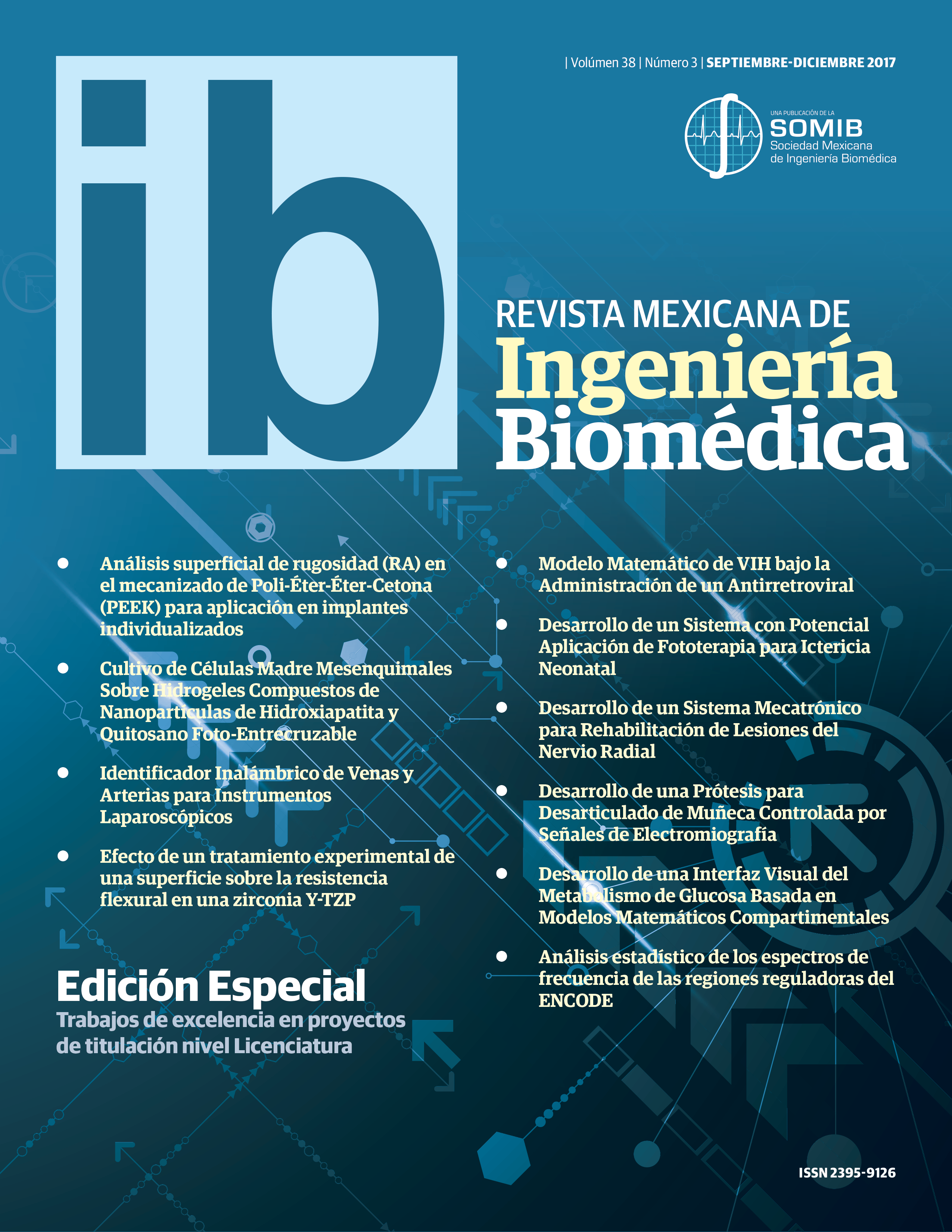 How to Cite
Torres-Ventura, J., Reyna, M. A., Rascón, R., Avitia, R. L., & Bravo-Zanoguera, M. E. (2017). Wireless Vein and Artery Identifier for Laparoscopic Instruments. Mexican Journal of Biomedical Engineering, 38(3), 537-546. https://doi.org/10.17488/RMIB.38.3.3
Section
Research Articles
Upon acceptance of an article in the RMIB, corresponding authors will be asked to fulfill and sign the copyright and the journal publishing agreement, which will allow the RMIB authorization to publish this document in any media without limitations and without any cost. Authors may reuse parts of the paper in other documents and reproduce part or all of it for their personal use as long as a bibliographic reference is made to the RMIB and a copy of the reference is sent. However written permission of the Publisher is required for resale or distribution outside the corresponding author institution and for all other derivative works, including compilations and translations.