Simulación Mediante Elemento Finito de Sistemas Intramedulares Telescópicos para Rehabilitación de Pacientes con Osteogénesis Imperfect
Abstract
En el trabajo se plantea el análisis de diferentes geometrías para un dispositivo intramedular, las cuales ayudan a reducir y evitar la migración, deformación y rotura del implante en tejido óseo afectado con Osteogénesis Imperfecta (OI). Se realizaron diseños en CAD de diferentes prototipos, donde se analizan las propiedades mecánicas en el alma del dispositivo, así como en las roscas distal y proximal de los implantes macho y hembra. Asimismo, se obtuvieron modelos 3D de huesos de un infante afectado con OI para realizar simulaciones mediante elemento finito de la interacción entre el hueso y el dispositivo intramedular. Los resultados muestran que los prototipos propuestos disminuyen la deformación del dispositivo, así como el aumento en la rigidez de la relación hueso-prótesis. Asimismo, las roscas generaron un menor esfuerzo en la unión con el hueso, lo que prevé un menor daño al tejido óseo. El trabajo se limitó al análisis numérico del rediseño de implantes telescópicos intramedulares para afectados con OI. Concluyendo que la geometría semicircular ¾ de caña, otorga un óptimo resultado en las pruebas realizadas, al tiempo que las roscas ACME proveen una mejor sujeción en las epífisis distal y proximal de los huesos largos.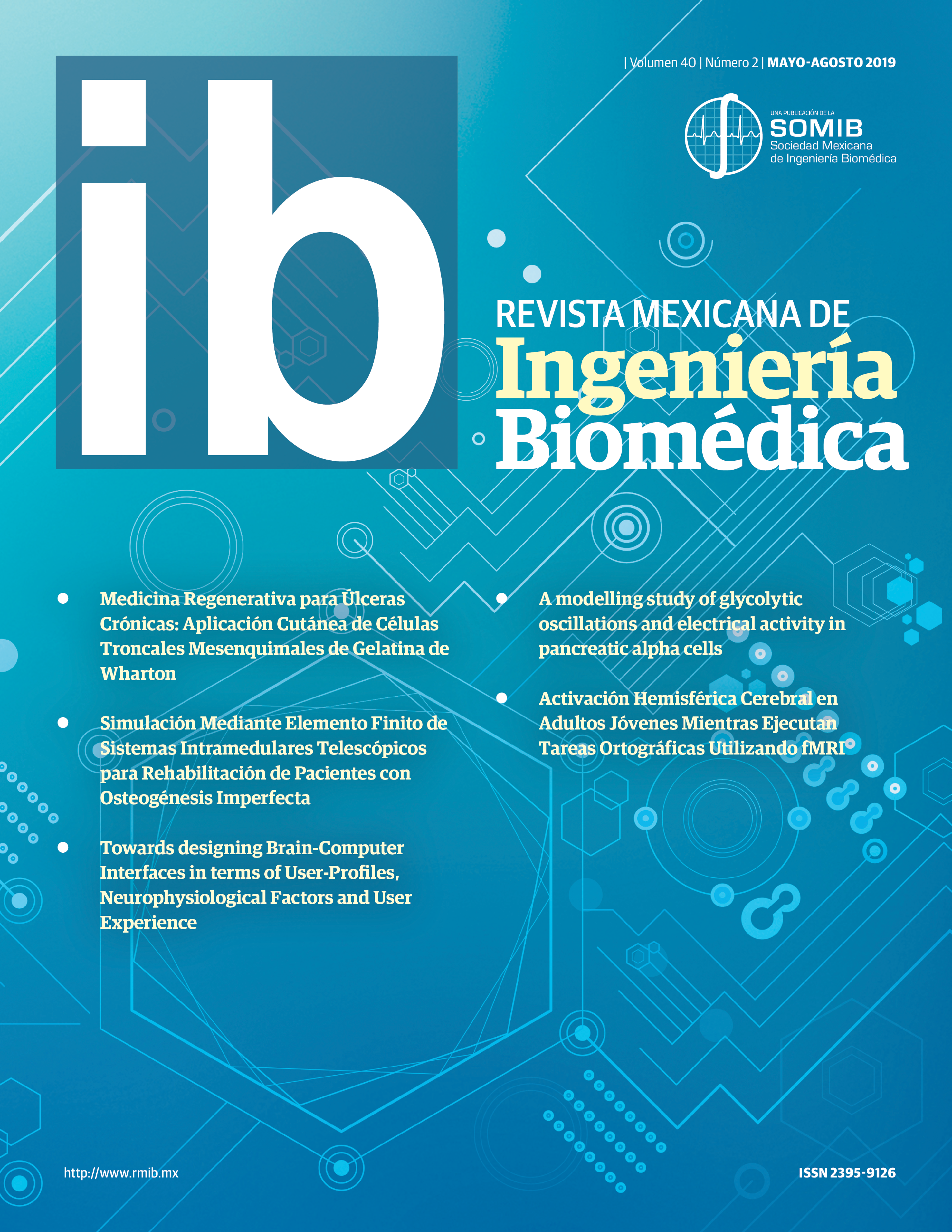 How to Cite
Rueda-Arreguín, J. L., Torres-San Miguel, C. R., Ramírez-Vela, V., Urriolagoitia-Sosa, G., & Martínez-Sáez, L. (2019). Simulación Mediante Elemento Finito de Sistemas Intramedulares Telescópicos para Rehabilitación de Pacientes con Osteogénesis Imperfect. Mexican Journal of Biomedical Engineering, 40(2), 1-10. https://doi.org/10.17488/RMIB.40.2.2
Section
Research Articles
Upon acceptance of an article in the RMIB, corresponding authors will be asked to fulfill and sign the copyright and the journal publishing agreement, which will allow the RMIB authorization to publish this document in any media without limitations and without any cost. Authors may reuse parts of the paper in other documents and reproduce part or all of it for their personal use as long as a bibliographic reference is made to the RMIB and a copy of the reference is sent. However written permission of the Publisher is required for resale or distribution outside the corresponding author institution and for all other derivative works, including compilations and translations.