Convocatoria para Artículos de Revisión
Edición Especial por el 40 Aniversario de la RMIB
Abstract
Fue en 1979 cuando el primer número de la Revista Mexicana de Ingeniería Biomédica (RMIB) que incluía artículos de investigación fue publicado. Desde entonces, la ingeniería biomédica ha evolucionado, teniendo hasta el momento más de 30 subespecialidades, de acuerdo con la Organización Mundial de la Salud (OMS).
Debido a lo anterior y con el objetivo de conmemorar la evolución de la ingeniería biomédica y de la RMIB en los últimos 40 años, el Comité Editorial (2018-2019) lanza la presente convocatoria para Artículos de Revisión que se encuentren dentro de las áreas que se enlistan a continuación:
• Biosensores utilizando nanomateriales y sistemas de micro/nanoestructura
• Interfaz cerebro-computadora
• Impresión 3D en cuidado de la salud
• Recolección de energía y sistemas vestibles en cuidado de la salud
• Biomateriales
• Diagnóstico asistido por computadora (CADx) en imágenes médicas
• Ingeniería clínica
Los temas participantes en la convocatoria nacen del objetivo de abarcar la mayor cantidad de subespecialidades de la ingeniería biomédica presentes en temas con relevancia científica en los últimos años y cada uno de ellos fue propuesto por un miembro del Comité Editorial. Es necesario mencionar que un artículo de revisión es un estudio detallado, selectivo y crítico que examina la bibliografía publicada y la sitúa en cierta perspectiva, además tiene como objetivo fundamental identificar qué se conoce del tema, qué se ha investigado, así como conocer los avances más destacados que dicho tema ha tenido en un período de tiempo determinado y qué aspectos permanecen desconocidos.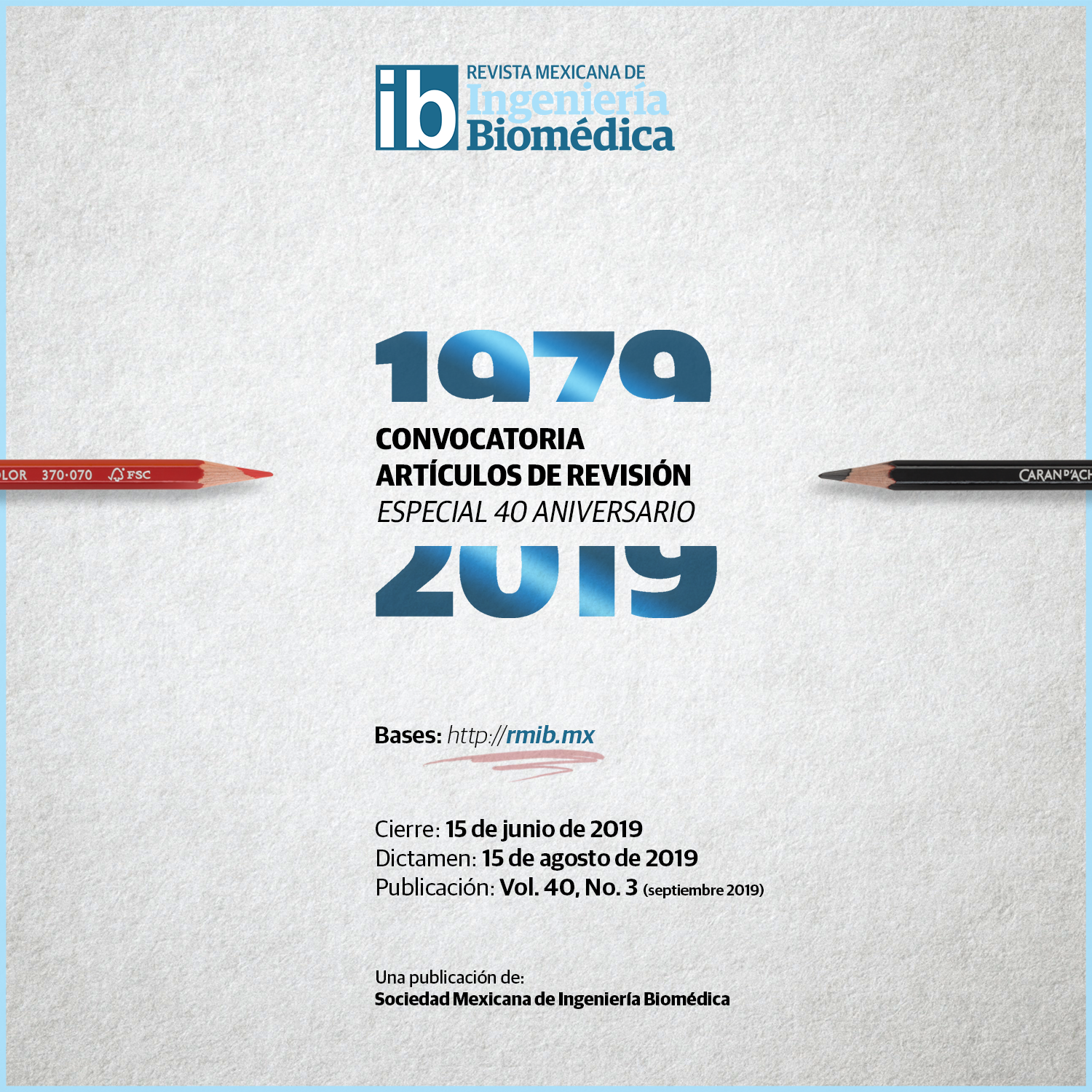 How to Cite
Editoral, C. (2019). Convocatoria para Artículos de Revisión: Edición Especial por el 40 Aniversario de la RMIB. Mexican Journal of Biomedical Engineering, 40(2). Retrieved from https://rmib.mx/index.php/rmib/article/view/937
Copyright (c) 2019 Comité Editoral
This work is licensed under a Creative Commons Attribution 4.0 International License.
Upon acceptance of an article in the RMIB, corresponding authors will be asked to fulfill and sign the copyright and the journal publishing agreement, which will allow the RMIB authorization to publish this document in any media without limitations and without any cost. Authors may reuse parts of the paper in other documents and reproduce part or all of it for their personal use as long as a bibliographic reference is made to the RMIB and a copy of the reference is sent. However written permission of the Publisher is required for resale or distribution outside the corresponding author institution and for all other derivative works, including compilations and translations.