Content Vol. 42 No. 2 (2021)
Abstract
E-book edition of the volume 42, number 2, year 2021, of the Revista Mexicana de Ingeniería Biomédica.
In this issue:
Determination of early bone metastasis on Bone Scans Using the Gray Levels Histogram
Theoretical Study of the Function of the IP3 Receptor / BK Channel Complex in a Single NeuronAntibacterial Activity Analysis of Hydroxyapatite Based Materials with Fluorine and Silver
Three-dimensional printing in healthcare
Biomechanical Evaluation of Hemiarthroplasty in the First Proximal Phalanx. A Finite Element Study
Detection of Exudates and Microaneurysms in the Retina by Segmentation in Fundus Images
Feature Extraction from Distributions of Phase Synchronization Values of EEG Recordings
Efficacy of Virtual Reality in Neurorehabilitation of Spinal Cord Injury Patients: A Systematic Review
Numerical Simulation of a Physiological Mathematical Model of Energy Consumption in a Sarcomere
Development of Films, Based on Oxidized Ipomea Batatas Starch, with Protein Encapsulation
Pressure Pain Threshold Values Obtained Through Algometers
Evaluation of Parameters in PLA and PCL Scaffolds to be Used in Cartilaginous Tissues
Autonomic Face Mask Detection with Deep Learning: an IoT Application
Downloads
Download data is not yet available.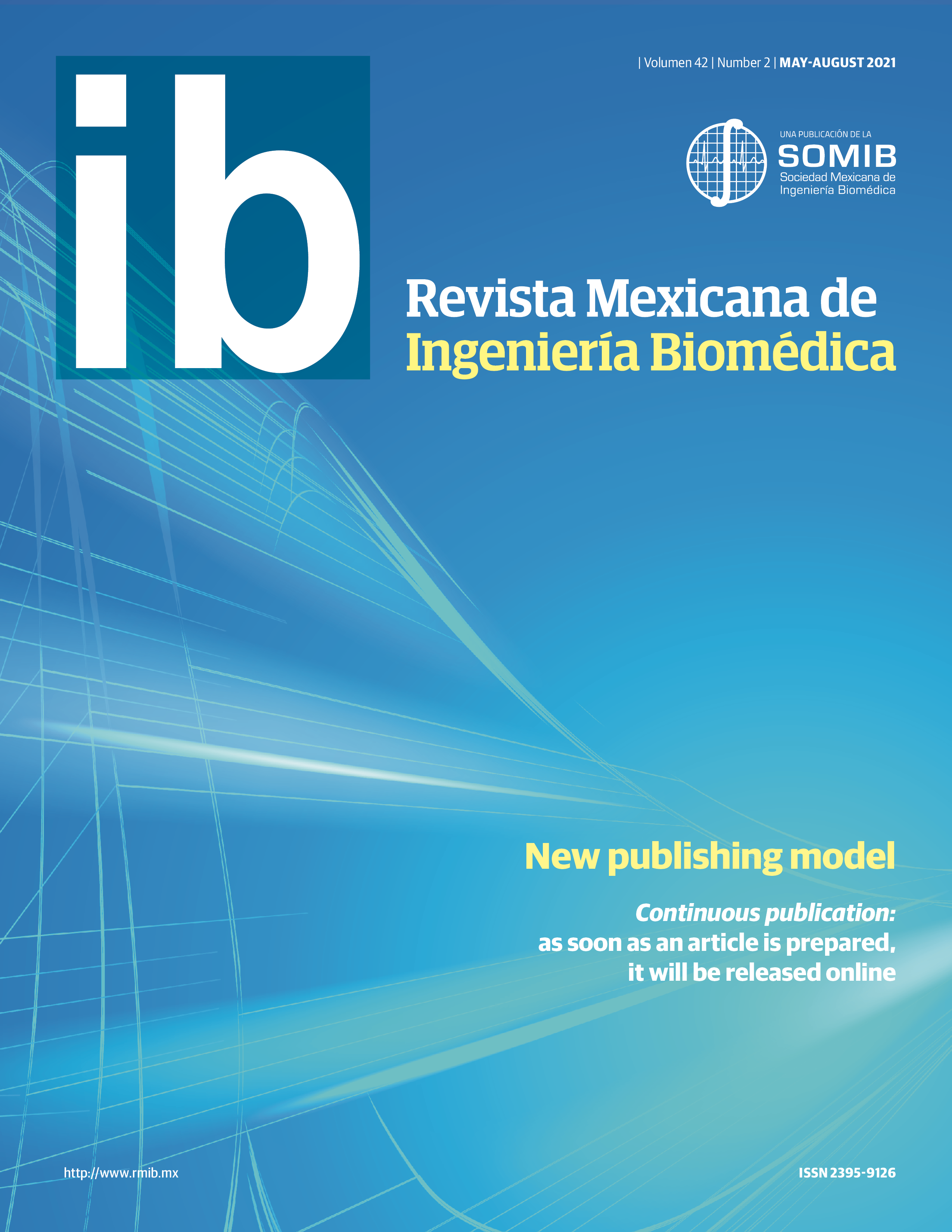 Downloads
How to Cite
Editorial, C. (2021). Content Vol. 42 No. 2 (2021). Mexican Journal of Biomedical Engineering, 42(2). Retrieved from https://rmib.mx/index.php/rmib/article/view/1230
License
Upon acceptance of an article in the RMIB, corresponding authors will be asked to fulfill and sign the copyright and the journal publishing agreement, which will allow the RMIB authorization to publish this document in any media without limitations and without any cost. Authors may reuse parts of the paper in other documents and reproduce part or all of it for their personal use as long as a bibliographic reference is made to the RMIB and a copy of the reference is sent. However written permission of the Publisher is required for resale or distribution outside the corresponding author institution and for all other derivative works, including compilations and translations.
Dimensions Citation