Uso de Biomateriales Funcionalizados con Moléculas Bioactivas en la Ingeniería Biomédica
Abstract
El artículo expone la importancia del uso de moléculas bioactivas para la funcionalización de biomateriales. Por esta razón, se realizó una revisión de investigaciones actuales y relevantes en diversos buscadores de datos, incluyendo los diferentes tipos de materiales y moléculas bioactivas utilizadas para elaborar biomateriales funcionalizados, con énfasis en los procesos y sus propiedades. Se encontró que el proceso de funcionalización o modificación de la su- perficie expande el camino para adaptar al biomaterial de acuerdo al entorno fisiológico de las células vivas. De esta manera, el proceso mejora la estructura y las funciones de los tejidos y órganos diseñados. Existen una variedad de métodos y moléculas bioactivas disponibles para la funcionalización de los biomateriales, las cuales dependen de la manera en las que las células o tejidos se regeneran. Entre los diferentes materiales para la fabricación de bioma- teriales, las biomoléculas como las proteínas, lípidos, carbohidratos, entre otros, son una de las opciones más utili- zadas debido a la similitud de estas con los sistemas biológicos del cuerpo humano. Finalmente, el artículo también integra algunas de las más prometedoras aplicaciones de moléculas bioactivas incorporadas a los biomateriales.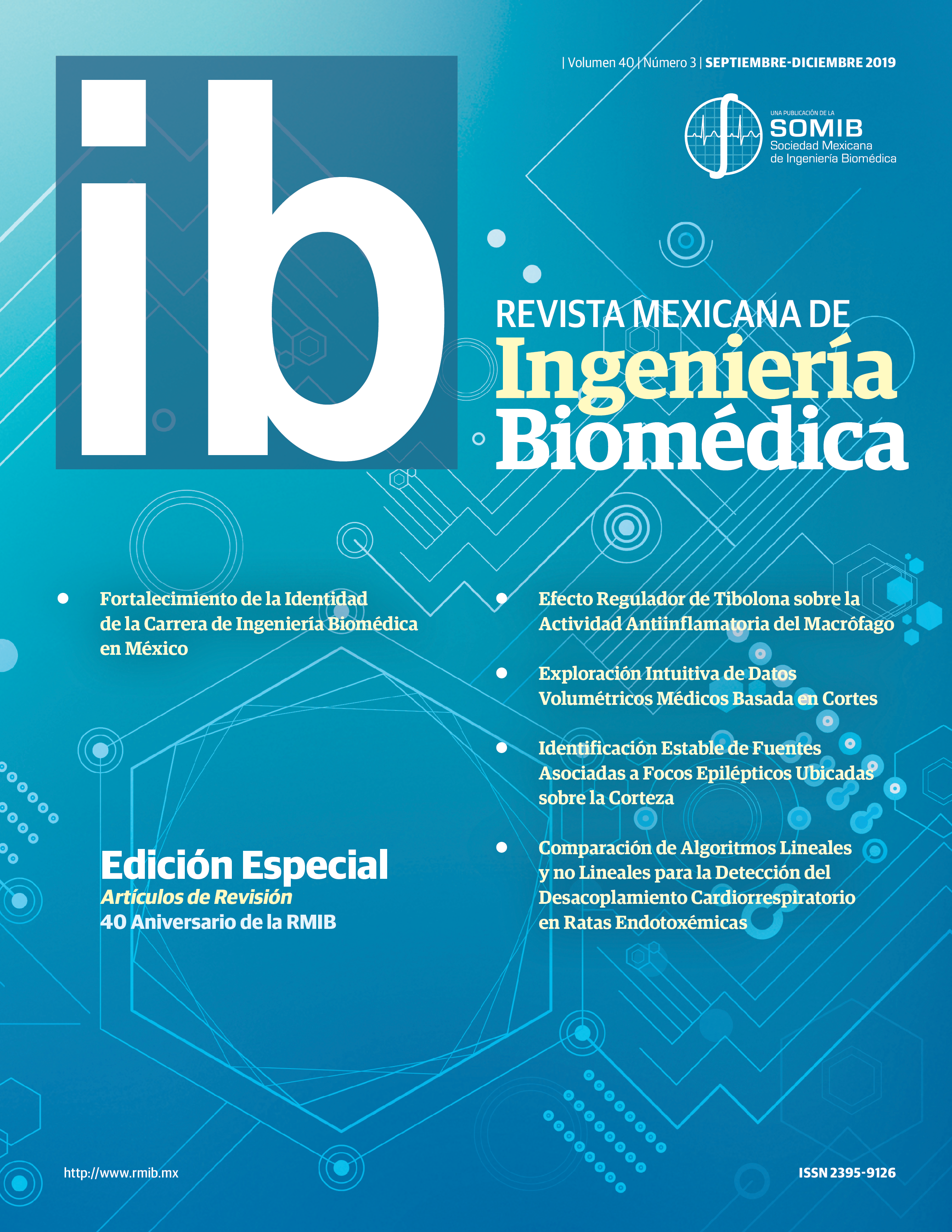 How to Cite
Reyes-Blas, H., Olivas-Armendáriz, I., Martel-Estrada, S. A., & Valencia-Gómez, L. E. (2019). Uso de Biomateriales Funcionalizados con Moléculas Bioactivas en la Ingeniería Biomédica. Mexican Journal of Biomedical Engineering, 40(3), 1-20. Retrieved from http://rmib.mx/index.php/rmib/article/view/1019
Upon acceptance of an article in the RMIB, corresponding authors will be asked to fulfill and sign the copyright and the journal publishing agreement, which will allow the RMIB authorization to publish this document in any media without limitations and without any cost. Authors may reuse parts of the paper in other documents and reproduce part or all of it for their personal use as long as a bibliographic reference is made to the RMIB and a copy of the reference is sent. However written permission of the Publisher is required for resale or distribution outside the corresponding author institution and for all other derivative works, including compilations and translations.