Mesenchymal Stem Cell Culture on Composite Hydrogels of Hydroxyapatite Nanoparticles and Photo-Crosslinking Chitosan
J. Alvarez-Barreto

Instituto de Energías y Materiales Alternativos, IDEMA. Departamento de Ingeniería Química. Universidad San Francisco de Quito. Quito, Ecuador

K. Márquez

Laboratorio de Ingeniería de Tejidos Humanos. Fundación Instituto de Estudios Avanzados, IDEA. Caracas, Venezuela/Instituto de Biología Experimental. Universidad Central de Venezuela.

E. Gallardo

Laboratorio de Ingeniería de Tejidos Humanos. Fundación Instituto de Estudios Avanzados, IDEA. Caracas, Venezuela

J. Moret

Laboratorio de Ingeniería de Tejidos Humanos. Fundación Instituto de Estudios Avanzados, IDEA. Caracas, Venezuela

N. Benítez

Laboratorio de Ingeniería de Tejidos Humanos. Fundación Instituto de Estudios Avanzados, IDEA. Caracas, Venezuela

M. Meyer

Laboratorio de Ingeniería de Tejidos Humanos. Fundación Instituto de Estudios Avanzados, IDEA. Caracas, Venezuela

S. Marsiccobetre

Laboratorio de Genómica y Proteómica. Fundación Instituto de Estudios Avanzados, IDEA. Caracas, Venezuela

D. Zujur

Laboratorio de Ingeniería de Tejidos Humanos. Fundación Instituto de Estudios Avanzados, IDEA. Caracas, Venezuela/Departamento de Ciencias de los Materiales. Universidad Simón Bolívar. Valle de Sartenejas, Caracas, Venezuela
Abstract
El quitosano (QT) es un biopolímero que ha sido ampliamente utilizado en aplicaciones de ingeniería de tejido óseo, demostrando un gran potencial para este propósito. El presente estudio tiene como objetivo desarrollar un sistema de hidrogel entrecruzable in situ, compuesto de quitosano y nano-partículas de hidroxiapatita (HAP), un equivalente al componente mineral del hueso. El quitosano fue modificado, utilizando reacciones de carbodiimida, con ácido lactobiónico y ácido azidobenzoico para hacerlo soluble a pH fisiológico y foto-entrecruzable, respectivamente. El quitosano modificado fue mezclado en diferentes proporciones con HAP, y luego de una corta exposición a luz UV, se formaron hidrogeles. Células madre mesenquimales de médula ósea de rata (MSC) fueron sembradas sobre estos hidrogeles y cultivadas por 4, 10 y 16 días, bajo condiciones osteogénicas y no-osteogénicas. A través de ensayos de proliferación celular, actividad de fosfatasa alcalina, y microscopía confocal, se observó que la mayoría de las formulaciones soportan la adhesión y proliferación celular, mostrando importantes interacciones célula-biomaterial, y una diferenciación osteogénica temprana destacada en las formulaciones 70:30 y 50:50, QT:HAP. Algunas formulaciones del sistema foto-entrecruzable tienen potencial en aplicaciones de ingeniería de tejido óseo, y se propone estudios más detallados de diferenciación celular.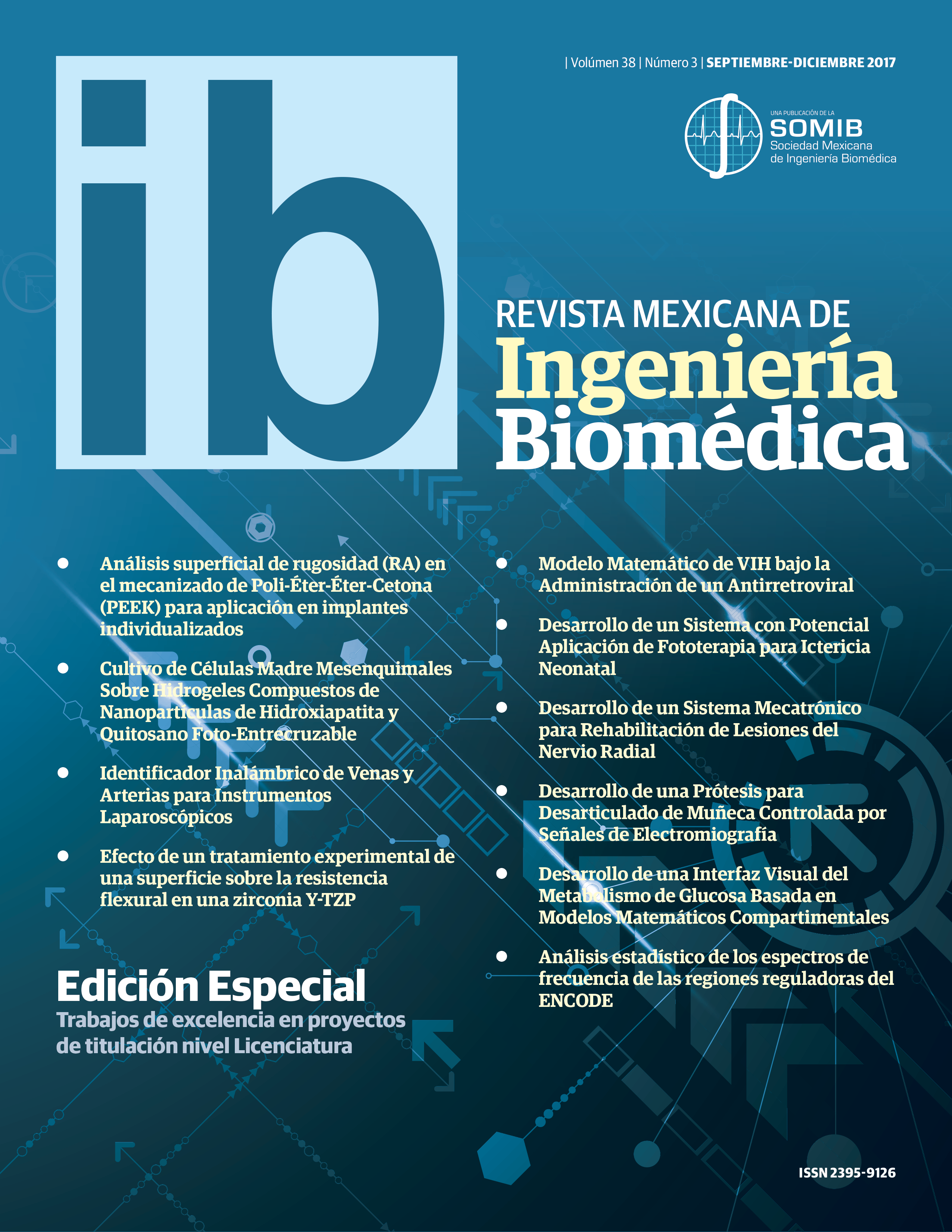 How to Cite
Alvarez-Barreto, J., Márquez, K., Gallardo, E., Moret, J., Benítez, N., Meyer, M., Marsiccobetre, S., & Zujur, D. (2017). Mesenchymal Stem Cell Culture on Composite Hydrogels of Hydroxyapatite Nanoparticles and Photo-Crosslinking Chitosan. Mexican Journal of Biomedical Engineering, 38(3), 524-536. https://doi.org/10.17488/RMIB.38.3.2
Section
Research Articles
Upon acceptance of an article in the RMIB, corresponding authors will be asked to fulfill and sign the copyright and the journal publishing agreement, which will allow the RMIB authorization to publish this document in any media without limitations and without any cost. Authors may reuse parts of the paper in other documents and reproduce part or all of it for their personal use as long as a bibliographic reference is made to the RMIB and a copy of the reference is sent. However written permission of the Publisher is required for resale or distribution outside the corresponding author institution and for all other derivative works, including compilations and translations.