HIV Mathematical Model considering Antiretroviral Administration
S. A. Cruz-Langarica

Instituto Tecnológico de Tijuana

P. A. Valle-Trujillo

Instituto Tecnológico de Tijuana

L. N. Coria-De Los Ríos

Instituto Tecnológico de Tijuana

A. Sotelo-Orozco

Instituto Tecnológico de Tijuana

C. Plata-Ante

Instituto Tecnológico de Tijuana
Abstract
En este trabajo se propone un modelo matemático consistente de cuatro ecuaciones diferenciales ordinarias que describen la evolución del VIH en un individuo seropositivo y el efecto de un antirretroviral en el proceso de replicación del virus en las células T CD4+. Con el propósito de determinar la efectividad del medicamento en el largo plazo se analizan los casos con y sin el tratamiento antirretroviral para observar el efecto en la población de células T CD4+ sanas e infectadas. Con el modelo matemático propuesto se encuentra un caso en el cual el tratamiento antirretroviral permite mantener una concentración de T CD4+ no infectadas clínicamente saludable en el organismo. Mediante la aplicación del método de Conjuntos Compactos Invariantes se establecen los límites máximos para las poblaciones de células sanas e infectadas, así como la concentración del VIH libre en el organismo. Finalmente, se realizan simulaciones numéricas para ilustrar los resultados en el plano temporal, se grafican las soluciones del sistema y los límites superiores obtenidos, estos permiten observar el valor máximo que pueden llegar a alcanzar las poblaciones de células sanas, las infectadas y la concentración de VIH en el torrente sanguíneo.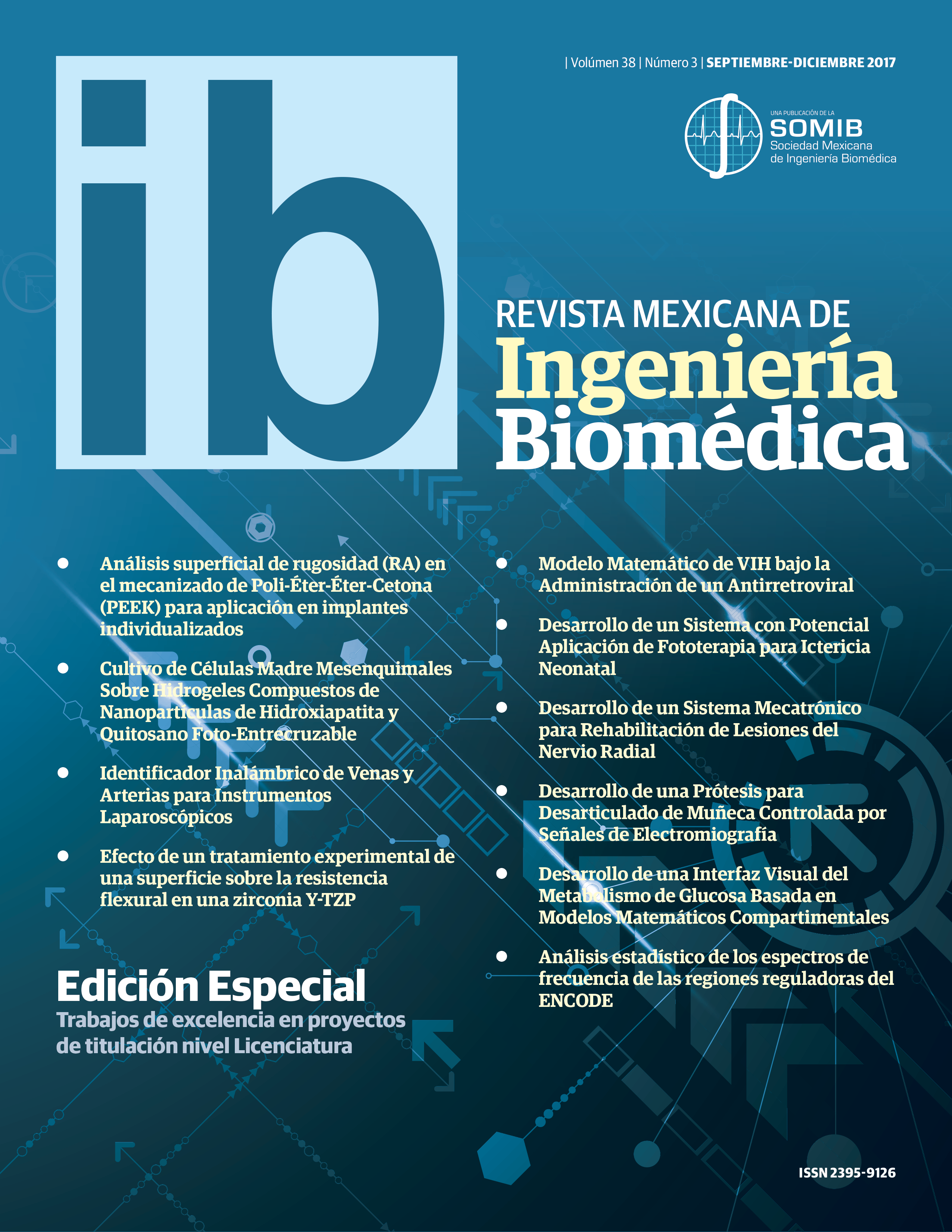 How to Cite
Cruz-Langarica, S. A., Valle-Trujillo, P. A., Coria-De Los Ríos, L. N., Sotelo-Orozco, A., & Plata-Ante, C. (2017). HIV Mathematical Model considering Antiretroviral Administration. Mexican Journal of Biomedical Engineering, 38(3), 563-573. https://doi.org/10.17488/RMIB.38.3.5
Upon acceptance of an article in the RMIB, corresponding authors will be asked to fulfill and sign the copyright and the journal publishing agreement, which will allow the RMIB authorization to publish this document in any media without limitations and without any cost. Authors may reuse parts of the paper in other documents and reproduce part or all of it for their personal use as long as a bibliographic reference is made to the RMIB and a copy of the reference is sent. However written permission of the Publisher is required for resale or distribution outside the corresponding author institution and for all other derivative works, including compilations and translations.