Development of a Myoelectric-Controlled Prosthesis for Transradial Amputees
Abstract
En este trabajo se presenta el desarrollo y puesta en operación de una prótesis robótica para pacientes amputados con desarticulado de muñeca. Esta prótesis consiste en un prototipo de impresión 3D que tiene dos grados de libertad que permiten realizar tareas de sujeción de tipo pinza, así como la orientación de objetos mediante los movimientos de pronación y supinación. Para el control de la prótesis se utilizan dos clasificadores de manera independiente: un clasificador bayesiano implementado en la plataforma Arduino y una red neuronal artificial implementada en el software MATLAB®; ambos realizan la clasificación de los movimientos mediante la adquisición, procesamiento y extracción de índices característicos de la señal de electromiografía. El clasificador bayesiano y la red neuronal artificial obtuvieron, respectivamente, una eficiencia de 97% y 100%, lo que muestra que los índices característicos seleccionados son adecuados para realizar la clasificación de señales de electromiografía propuesta. Se logró la creación de una prótesis mioeléctrica completamente funcional que, al ser elaborada con tecnología de impresión 3D, representa una alternativa de bajo costo a aquellas ofrecidas actualmente en el mercado.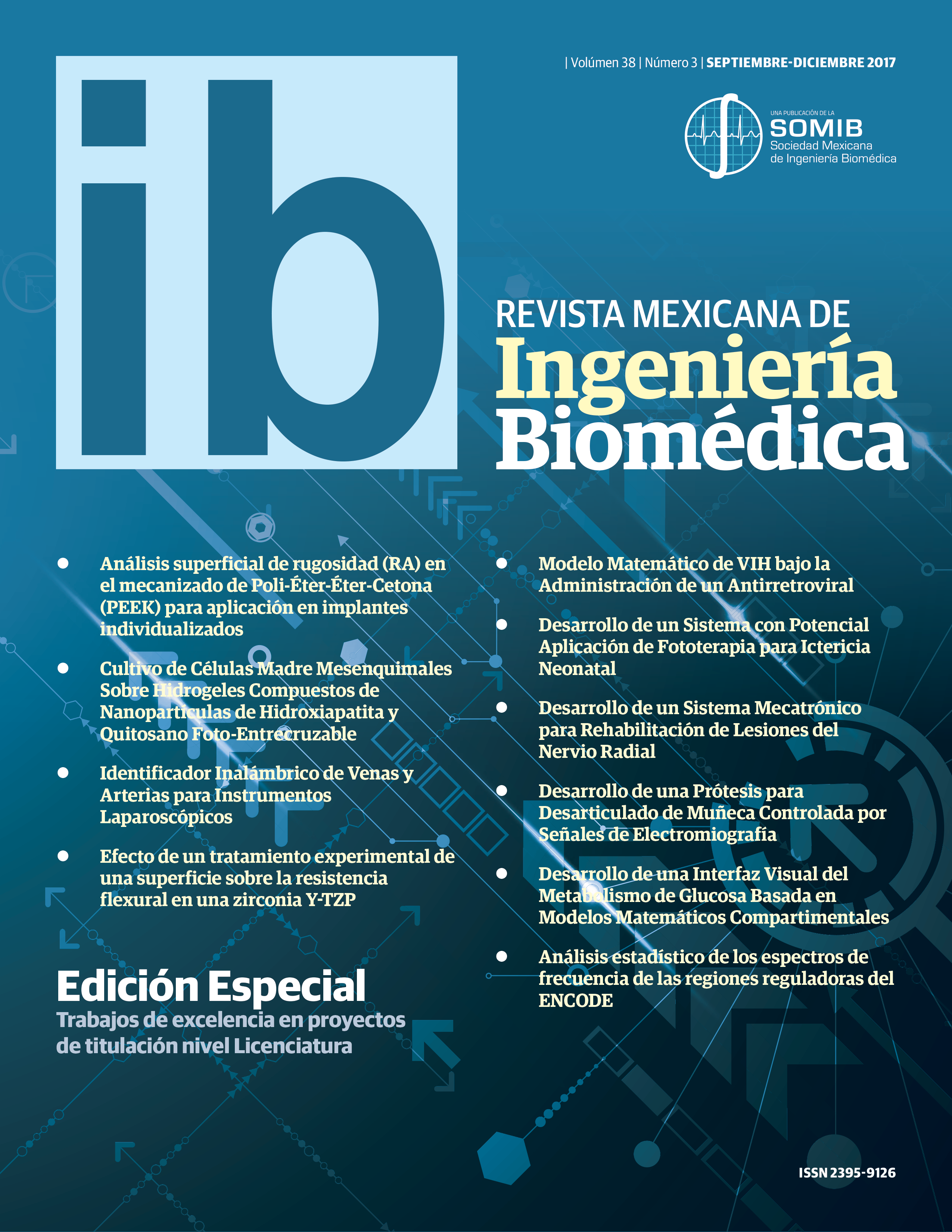 How to Cite
Rodríguez-García, M. E., Dorantes-Méndez, G., & Mendoza Gutiérrez, M. O. (2017). Development of a Myoelectric-Controlled Prosthesis for Transradial Amputees. Mexican Journal of Biomedical Engineering, 38(3), 602-620. https://doi.org/10.17488/RMIB.38.3.8
Upon acceptance of an article in the RMIB, corresponding authors will be asked to fulfill and sign the copyright and the journal publishing agreement, which will allow the RMIB authorization to publish this document in any media without limitations and without any cost. Authors may reuse parts of the paper in other documents and reproduce part or all of it for their personal use as long as a bibliographic reference is made to the RMIB and a copy of the reference is sent. However written permission of the Publisher is required for resale or distribution outside the corresponding author institution and for all other derivative works, including compilations and translations.