Development of a Visual Interface of Glucose Metabolism Based on Compartment Mathematical Models
Abstract
La diabetes es una pandemia mundial cuya incidencia ha aumentado en las últimas décadas. Por tal motivo, es prioritario proponer estrategias para su diagnóstico, tratamiento y seguimiento. Uno de los enfoques recientes en el tratamiento de la diabetes es el monitoreo continuo, el cual permite tener suficiente información sobre el estado metabólico del paciente a lo largo del día. Esta información puede servir para simular pacientes virtuales que sean herramientas para proponer estrategias de tratamiento. Por tanto, el objetivo de esta investigación es proponer una interfaz visual que simule pacientes virtuales, a partir de un conjunto de modelos matemáticos compartimentales que permiten ingresar parámetros del metabolismo y modificaciones en el tratamiento. El desarrollo de la interfaz se realizó en MATLAB® y simula tres tipos de pacientes (sano, diabético tipo I y diabético tipo II). Los resultados muestran una interfaz que presenta de manera ilustrativa el funcionamiento de los modelos matemáticos y permite una visualización del estado metabólico del paciente; así como el manejo de medicamentos e ingesta. Una limitante de esta investigación es la validación de la interfaz con datos experimentales de los tres tipos de pacientes. Una vez validada, esta herramienta aportaría en el desarrollo de tecnología in silico para la generación de pacientes virtuales.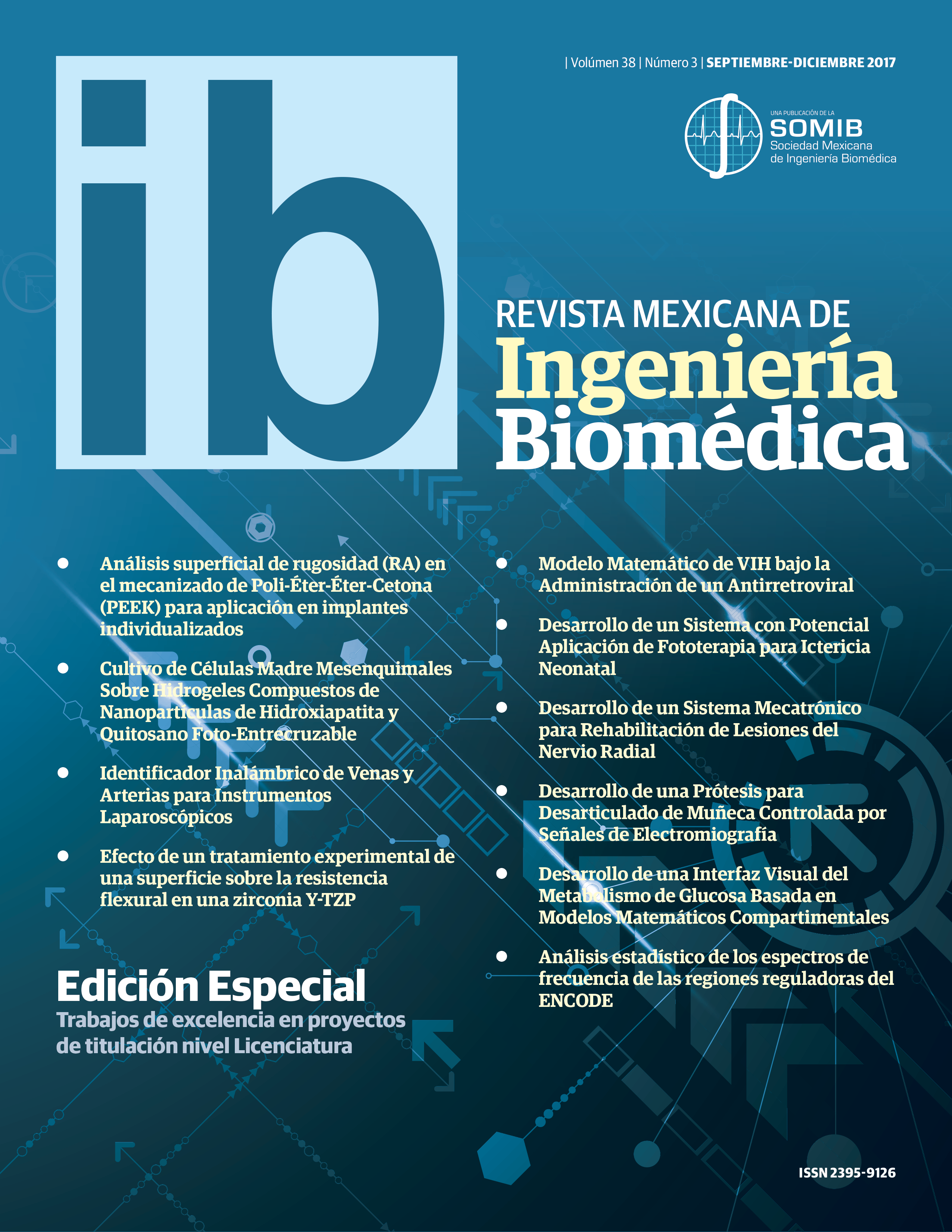 How to Cite
Olay-Blanco, A. A., & Quiroz-Compeán, G. (2017). Development of a Visual Interface of Glucose Metabolism Based on Compartment Mathematical Models. Mexican Journal of Biomedical Engineering, 38(3), 621-636. https://doi.org/10.17488/RMIB.38.3.9
Upon acceptance of an article in the RMIB, corresponding authors will be asked to fulfill and sign the copyright and the journal publishing agreement, which will allow the RMIB authorization to publish this document in any media without limitations and without any cost. Authors may reuse parts of the paper in other documents and reproduce part or all of it for their personal use as long as a bibliographic reference is made to the RMIB and a copy of the reference is sent. However written permission of the Publisher is required for resale or distribution outside the corresponding author institution and for all other derivative works, including compilations and translations.