Statistical analysis of the Fourier Spectra of the ENCODE regulatory regions
O. Paredes

Maestría en Ciencias en Ingeniería Electrónica y Computación, CUCEI, Universidad de Guadalajara

R. Romo-Vázquez

Departamento de Ciencias Computacionales, CUCEI, Universidad de Guadalajara

H. Vélez-Pérez

Departamento de Ciencias Computacionales, CUCEI, Universidad de Guadalajara

J. A. Morales

Departamento de Ciencias Computacionales, CUCEI, Universidad de Guadalajara
Abstract
En la actualidad, nuevas bases de datos genómicos (secuencias de ADN) son puestas al alcance del dominio público para su análisis. La bioinformática ha desarrollado algoritmos para extraer información y características de dichas secuencias. Sin embargo, estos algoritmos bioinformáticos tienen limitaciones. Una alternativa es utilizar herramientas propias del procesamiento digital de señales (DSP) adaptadas a secuencias genómicas (procesamiento de señales genómicas - GSP). El presente trabajo versa sobre el análisis de los cuatro primeros momentos centrales (media, desviación estándar, asimetría y curtosis) y dos momentos estadísticos (mediana y varianza) de los espectros frecuenciales de las 15 Regiones Reguladoras (RRs) de la base de datos ENCODE con el objetivo de estudiar diferencias estadísticas y frecuencias características. La base de datos seleccionada es "mapeada". Luego, la FFT es calculada a estas señales genómicas y finalmente los momentos estadísticos son implementados. Los resultados muestran la existencia de 3 grupos de RRs utilizando la media, mediana y curtosis. La desviación estándar y la varianza, parecen no resaltar información importante. Finalmente, la asimetría revela un comportamiento homogéneo ante la presencia de valores atípicos en algunas RRs. Estas observaciones permiten inferir que la periodicidad dentro de la secuencia está relacionada o podría determinar la función biológica que desempeña la misma secuencia.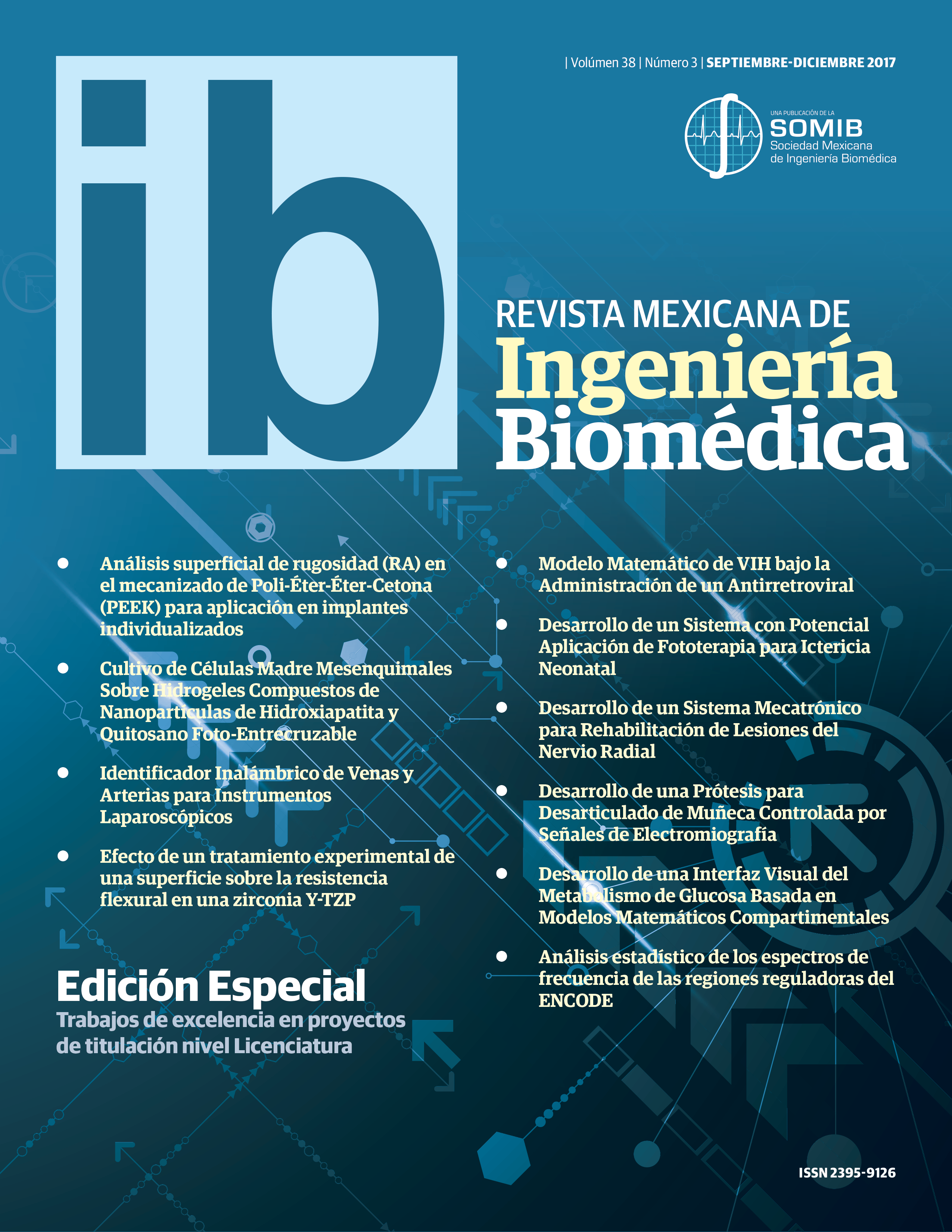 How to Cite
Paredes, O., Romo-Vázquez, R., Vélez-Pérez, H., & Morales, J. A. (2017). Statistical analysis of the Fourier Spectra of the ENCODE regulatory regions. Mexican Journal of Biomedical Engineering, 38(3), 637-645. https://doi.org/10.17488/RMIB.38.3.10
Upon acceptance of an article in the RMIB, corresponding authors will be asked to fulfill and sign the copyright and the journal publishing agreement, which will allow the RMIB authorization to publish this document in any media without limitations and without any cost. Authors may reuse parts of the paper in other documents and reproduce part or all of it for their personal use as long as a bibliographic reference is made to the RMIB and a copy of the reference is sent. However written permission of the Publisher is required for resale or distribution outside the corresponding author institution and for all other derivative works, including compilations and translations.