Surface roughness analysis (RA) in the machining of Poly-Ether-Keton (PEEK) for tailored implants
M. P. Calvo-Correa

Universidad Distrital Francisco José de Caldas

J. A. Benitez-Forero

Universidad Distrital Francisco José de Caldas

C. J. Cortés-Rodríguez

Universidad Nacional de Colombia
Abstract
El objetivo de esta investigación es determinar los valores de velocidad de corte, avance y trayectoria (estrategia de mecanizado) en el mecanizado del PEEK que permitan obtener una rugosidad (Ra) recomendada según la literatura para la adecuada diferenciación, proliferación y adhesión de células mesenquimales aplicables en implantes óseos [3, 4, 6, 7, 11]. De la revisión del estado del arte se determinó que dichos procesos celulares se obtienen cuando la rugosidad superficial Ra tiene un valor entre 1 μm a 3 μm [9, 12], de igual forma, a mayor anisotropía superficial, mayor diferenciación celular se obtendrá [7, 8]. Para determinar los parámetros de corte con los que se obtiene una rugosidad Ra óptima se realizó un diseño experimental de superficie de respuesta con rangos de exploración de: velocidad de corte: 60 m/min - 90 m/min y velocidad de avance : 900 mm/min - 1500 mm/min usados para ambas estrategias evaluadas: Raster y Espiral. La investigación concluyó que los parámetros de mecanizado con los cuales se obtiene una rugosidad recomendada Ra para la elaboración de implantes óseos son: velocidad de avance 1500 mm/min y velocidad de corte de 90 m/min mecanizando con una trayectoria (técnica de mecanizado) Raster, con la cual se obtiene una rugosidad Ra de 2,7 μm.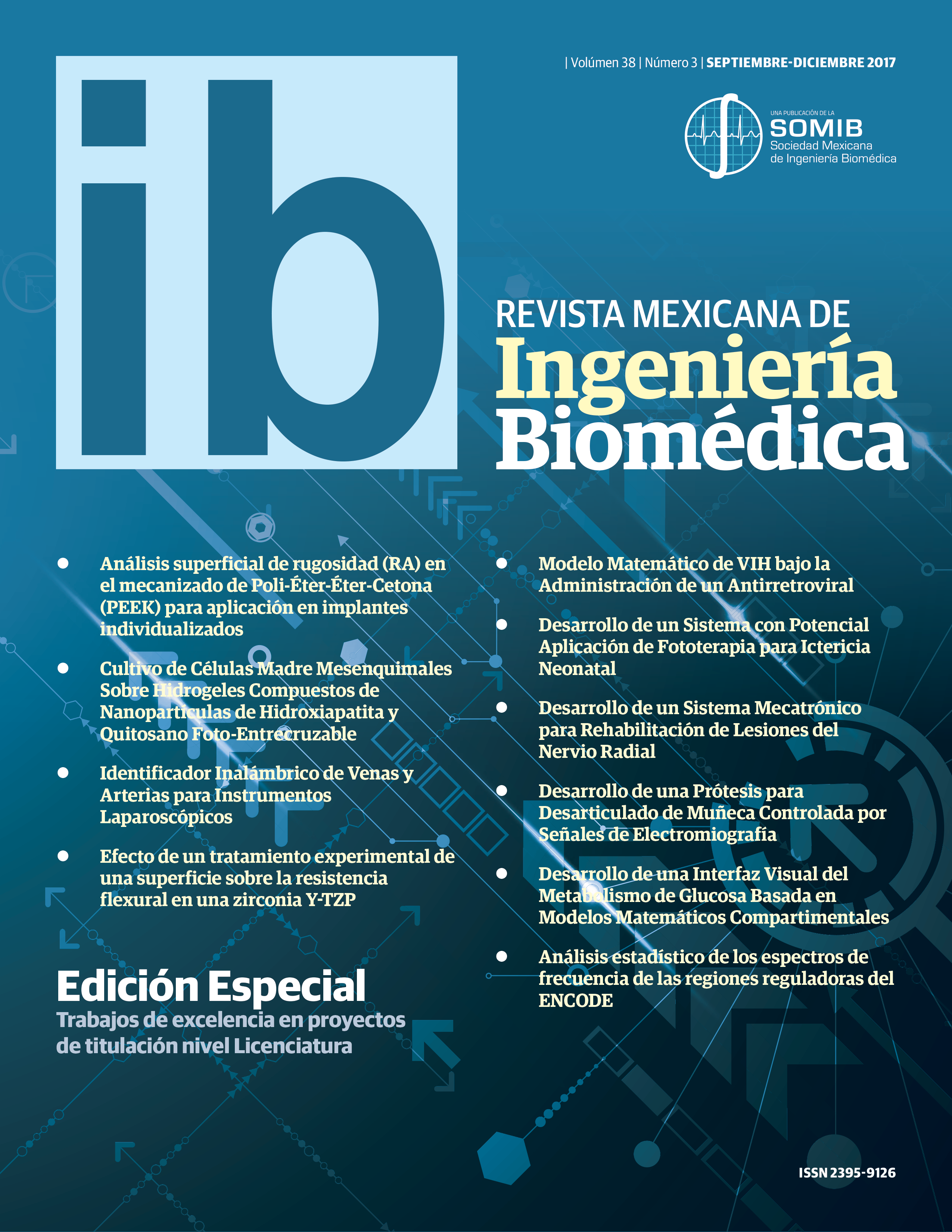 How to Cite
Calvo-Correa, M. P., Benitez-Forero, J. A., & Cortés-Rodríguez, C. J. (2017). Surface roughness analysis (RA) in the machining of Poly-Ether-Keton (PEEK) for tailored implants. Mexican Journal of Biomedical Engineering, 38(3), 517-523. https://doi.org/10.17488/RMIB.38.3.1
Section
Research Articles
Upon acceptance of an article in the RMIB, corresponding authors will be asked to fulfill and sign the copyright and the journal publishing agreement, which will allow the RMIB authorization to publish this document in any media without limitations and without any cost. Authors may reuse parts of the paper in other documents and reproduce part or all of it for their personal use as long as a bibliographic reference is made to the RMIB and a copy of the reference is sent. However written permission of the Publisher is required for resale or distribution outside the corresponding author institution and for all other derivative works, including compilations and translations.