Effect of an experimental surface treatment on Y-TZP zirconia flexural strength
B. C. Gómez

Facultad de Odontología – Maestría en Odontología – Universidad Nacional de Colombia – Sede Bogotá – Grupo de Investigación en Biomecánica – GIBM – Colombia

C. J. Cortés-Rodríguez

Departamento de Ingeniería – Mecánica y Mecatrónica – Universidad Nacional de Colombia – Sede Bogotá – Grupo de Investigación en Biomecánica – GIBM – Colombia

M. L. Calle

Facultad de Odontología – Universidad Nacional de Colombia – Sede Bogotá – Colombia
Abstract
Objetivo: Analizar el efecto del microgranallado superficial como tratamiento experimental de regeneración, en la resistencia flexural y esfuerzos residuales de una Zirconia Y-TZP, una vez ha sido alterada con otros tratamientos mecánicos como microarenado y fresado. Métodos: Un total de 75 probetas de Zirconia Y-TZP fueron divididas en cinco grupos n=15 y sometidas a tratamientos de superficie así: fresado y microarenado (Grupos 2 y 4) microarenado + microgranallado y fresado + microgranallado (Grupos 3 y 5), y comparadas con un grupo control (Grupo 1), mediante Difracción de Rayos X (DRX), Microscopía electrónica de barrido (SEM), Microscopía confocal (CLSM) y sometida a falla en máquina universal de ensayos. Resultados: Los grupos de microgranallado y microarenado presentaron un aumento significativo de la resistencia flexural p=0.0082 con relación al grupo de fresado. Las mediciones mediante DRX no mostraron relación estadística con los cambios en la resistencia flexural. Significancia: Es posible que el microgranallado se considere un tratamiento para regenerar las propiedades mecánicas reducidas por fresado o arenado en la Zirconia Y-TZP.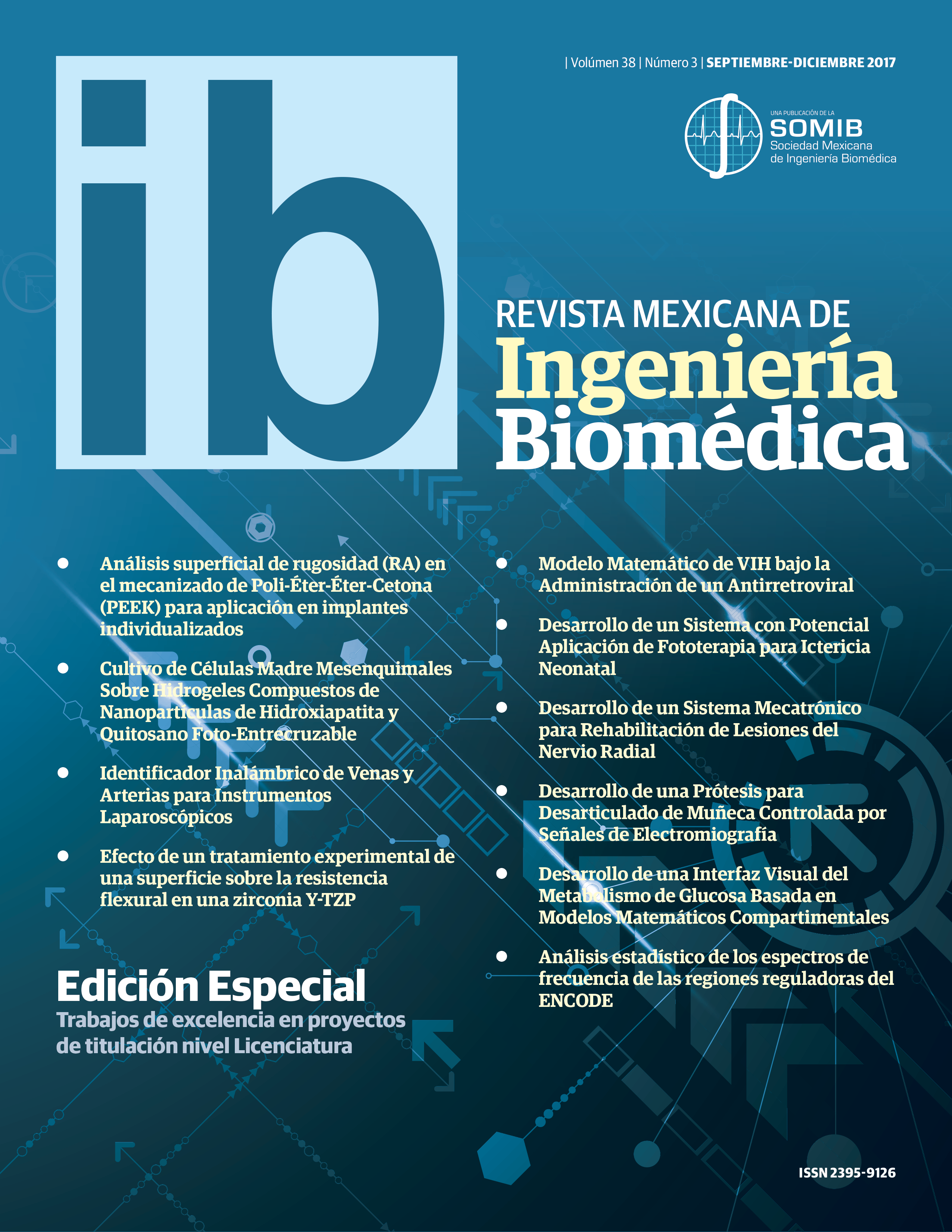 How to Cite
Gómez, B. C., Cortés-Rodríguez, C. J., & Calle, M. L. (2017). Effect of an experimental surface treatment on Y-TZP zirconia flexural strength. Mexican Journal of Biomedical Engineering, 38(3), 547-562. https://doi.org/10.17488/RMIB.38.3.4
Section
Research Articles
Upon acceptance of an article in the RMIB, corresponding authors will be asked to fulfill and sign the copyright and the journal publishing agreement, which will allow the RMIB authorization to publish this document in any media without limitations and without any cost. Authors may reuse parts of the paper in other documents and reproduce part or all of it for their personal use as long as a bibliographic reference is made to the RMIB and a copy of the reference is sent. However written permission of the Publisher is required for resale or distribution outside the corresponding author institution and for all other derivative works, including compilations and translations.